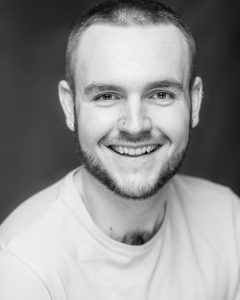 George has been a keen performer since the age of 5, where he participated in extra curriculum activities such as youth choirs, local amateur dramatics, dance and school based performing classes. During his time within these clubs he got the chance to perform at some amazing venues alongside leading industry professionals such as symphony hall, Lichfield cathedral, Wolverhampton Grand Theatre etc.
George went on to further his knowledge and training at Dudley College Evolve to study Musical Theatre for two years, this again allowed George to explore his craft within an industry safe environment. Leaving Dudley College George received Triple Distinction in all his final projects.
To further his training George made the decision to study at Wolverhampton University, staying local allowed George to further his knowledge whilst still teaching at Telford Stage School passing on his learnings to pupils of the school. During his time at University George spent many lectures with industry professionals learning the ways of the industry and honouring his own craft to his advantage. During his training George also participated in dramatic society's allowing him to be in shows such as West Side Story, Pantomines, Fame, Priscilla Queen of the Desert. During his university training George took on leading roles in shows such as Chess the Musical, Soho Cinders and Variety Concerts. University also allowed George to develop his dance technique in all dance forms such as Hip Hop, Tap, Jazz, Musical Theatre Jazz, Contemporary, Street etc. George left university with a (BA Hons) Musical Theatre First Classification.
George has been teaching at Telford Stage School for 5 years now and has loved every moment with us. He has taught across all age groups and has loved developing each child he has the pleasure to teach. George understands the importance of theatrical teachings and loves that he has the chance to pass on his learnings, allowing children to become more confident within themselves and outside of classes. He understands that every child is different and attends to those differences allowing children to explore and honour their differences, as his classes are a safe space to learn, develop and have fun.