Telford Stage School (TSS) was formed in February 1999 by parents of Pax Baldwin star of Theatre, Film and TV. Pax starred in West End musicals such as Whistle Down The Wind, King and I, Chitty Chitty Bang Bang [ London Palladium] Les Miserables to name but a few.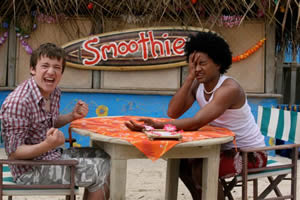 He has also appeared o n TV in Eastenders, Holby City, Kingdom, Doctors, and starred in the series Paradise Café for BBC 1. He also starred in the Disney series As the Bell Rings. He has worked alongside Hannah Montana and the Jonas brothers, been in the studios with Dylan and Cole Sprouse in the Suite life on deck.
Lee & Paul Baldwin have first hand up to date knowledge and experience of all areas of performing arts, theatre and stage craft. Lee herself having worked o n a number of films including Harry Potter. They know personally Sylvia Young from the prestigious Sylvia Young Theatre School In London, The head of Disney in the UK and also numerous other casting directors in the UK and Los Angeles together with the children's administrator for all Musicals and stage shows in the UK. Their vision was to make quality performing art tuition and performance available to all. Todays  performer requires more than dance, drama and singing training….they need to be competent in all three!
As well as learning technical skills Telford Stage Schools places strong emphasis on performance. This helps improve children's self confidence in a friendly and enjoyable atmosphere. All students are individuals at TSS we offer the flexibility to cater for those who want to sing, dance, act for fun! To those who wish to make a career in performing arts.
Our Staff are experienced professionals in their fields. All staff and volunteers are DBS checked. Importantly to us our fees are structured to make classes affordable. We offer a friendly caring environment fostering all aspects of performing Arts. We are flexible in our approach.
Students are taught the fundamentals of a discipline in a structured format together with technique, then apply them to live performances. We aim to stage numerous performances per annum.
Our students have been featured o­n local radio many times.They have appeared in Joseph and the Amazing Technicolor Dreamcoat, Whistle Down the Wind, Scrooge at Wolverhampton Grand Theatre. Les Miserables 20th Anniversary Celebrations in London's West End. Our Students have successfully auditioned for places at prestigious London Stage Schools. So many of our  students are now teachers themselves.
It is lovely to see how TSS has helped so many young people and it is something we are really proud of. It is also true that TSS took time and patience to train so many young teachers giving them many  opportunities to develop their abilities. Again this is something we are extremely proud
We have links with respected London agents and our students attend West End auditions, Blockbuster film auditions and have appeared in Television shows, West End productions and numerous commercials.
OUR ALUMNI
Ellie Fletcher  singer with THE CYSTAL FIGHTERS.
Aimee Fisher  Starred in numerous West End musicals including Les Miserables &  Wicked.
Kim Edwards has starred in numerous West End Musicals.
George Naylor TV Actor
Jamie Smith Actor and producer.
Sian Thomas teacher of Performing Arts.
Sarah Millington teacher of Performing Arts.
Aimee Turner /Crampsie teacher of Performing Arts.
Emma Hudson Proffesional entertainer.
Dan Crossley was the first to win Telford's got talent.
CHILDREN'S ACTING, SINGING & DANCE  CLASSES IN TELFORD. AGES 3 TO AGE 18.
KIDS LESSONS IN DANCE, DRAMA & SINGING IN TELFORD.  AGES 3 TO AGE 18.
PAY AS YOU GO FEES. FUN, FRIENDLY. AFFORDABLE.  SHOWS  EACH TERM.